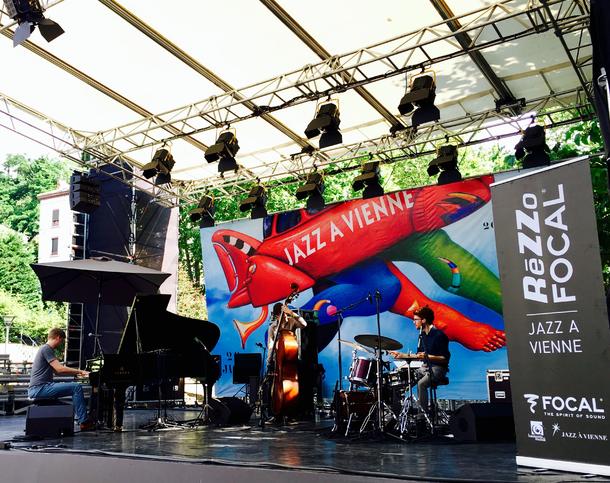 The Amaury Faye Trio won the 2016 edition of Jazz à Vienne Rezzo Focal Competition, which took place during three days featuring nine different bands. 
Every year, each province or jazz festival of France send a band selected to represent it. Amaury Faye Trio represented Jazz In Marciac.
The band will have thanks to this award the opportunity to record an album distributed by french label Jazz Village (Harmonia Mundi), an artistic management for one year and will play in 2017 in a few important jazz scenes in France, including the Theatre Antique of Jazz à Vienne.
The nine band that competed for this edition were the following ones:
 - Rémy Béesau Quintet Aquitaine Limousin Poitou-Charentes (Cristal Production)
 - Amaury Faye Trio Occitanie (Jazz In Marciac)
 - Sviti Rhône-Alpes-Auvergne (Jazz'RA)
 - David Kozak 5tet Centre-Val de Loire (Ô Jazz !)
 - Toubré Bourgogne (Crescent Jazz Club)
 - H4tet Île de France (Jazzmagazine)
 - Fred Perreard trio Île de France (Sunset-Sunside)
 - Mahsala Bretagne (Jazz à Vannes)
 - One Foot PACA (Marseille Jazz des 5 continents)
The jury was presided by french pianist Pierre de Bethmann and featuring:
 - Pierre de Bethmann (president of jury) : pianist
 - Pascal Anquetil : journalist, member of Académie du Jazz
 - Pierre-Henri Ardonceau : journalist at Jazz Magazine/Jazzman, member of 'Académie du Jazz
 - Gérard Chrétien : general director of FOCAL
 - Pascal Bussy : artistic director for jazz and world music / Harmonia Mundi
The trio want to thank the different members of the jury, the staff of Jazz à Vienne for this wonderful event, Jazz in Marciac for their trust and Note Only Artistic Agency for their work with the trio since December 2015 and give a special mention to the two exceptionally talented projects that shared the stage on the same day: H! Quartet and Onefoot.