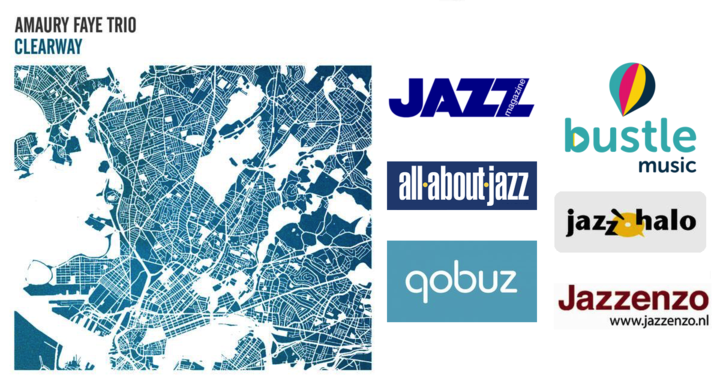 JAZZ MAGAZINE (FRA)
A french pianist born and raised in Toulouse, Amaury Faye is currently based in Brussels after coming back from a one-year stay in Boston where he's been awarded with the Berklee Jazz Performance Award in 2015. The following year, he's been able to record his first album thanks to the national competition Rezzo-Focal/Jazz à Vienne. This first album can be showned to everybody who considered that the art of trio has come to an end. The slow and complete assimilation of successive influences, from Garner to Mehldau and a long complicity with the bassist Louis Navarroare challenged by the drummer Theo Lanau, more invested in improvised music. 
The result, without an ounce of effects or electronics, releases a freshness and a delightful relaxation which results here or one as unexpected or eruptive solos. In Journey to the Eascoast, we can hear Brad Mehldau in the way left and right hands interact together. In Clearway Street, we notice the opposition between a first part based on rythms and energies and a second part delivering a different atmosphere combining beautiful melodies sometimes flirting with dissonance. After Vienne, Vannes, Chamonix and Avignon, the trio will play in Marciac Jazz Festival before heading to Canada for a tour featuring performances in Montreal and Rimouski. It is urgent to go discover it.
Vincent Cotro
ALL ABOUT JAZZ (USA)
Following several years of studying and reputation-building in his native France and beyond, Amaury Faye makes an accomplished and overdue step foward with Clearway. It was largely a standards affair on his leader debut Big Moe Trio (Greenworks, 2010). Here the French pianist includes just two semi-obscure cover selections and uses his own songs to bridge them with the more contemporary sounds of the genre. The unspoken theme here revolves around Faye's time in Boston while studying at Berklee, so there's an American streak throughout to complement the sophistication of his European roots. 

One can hear a little Keith Jarrett (e.g. the jaunty low-end jitterbugging of "Clearway Street") or a lot of Brad Mehldau in melodic spots such as "Vence," though Faye's restless mind can't help weaving everything into a pattern of his own. The mode is contemporary jazz incorporating touches of classical and bebop, while his interplay with the solid rhythm section is a smooth and subtly accomplished delight to hear. The parts add up to a splashy, playful listen that doesn't need to shatter the mold of the piano trio, but doesn't mind cozily exploring and stretching it. 
Geno Thackara
QOBUZ (FRA)
Not easy to exist when in 2017 we are a young jazz pianist, true-false category often shielded in scholarly monkeys and other prodigal children whose pearls we try to extract, singular voices or simply original. Amaury Faye has all the potential to be one of her. A pearl shining brightly at the head of the trio that the young Toulousain rode with contrabassist Louis Navarro and drummer Theo Lanau. Member of the Initiative H collective, here it is a clear line of beauty. Combining original compositions and rearranged standards where mix improvisation and writing, lyricism and catchy rhythms, virtuosity and finesse, these three eclectic and open musicians like to put the legacy of the ancients at the service of the future. The idea is certainly not new but has the merit of being brilliantly developed throughout this Clearway. Disciple of the great (but underestimated) pianist Joanne Brackeen, Amaury Faye walked on the broken Brad Mehldau, it offers a style already strong and shimmering, suggesting a progression and a statement in the short term. A true revelation.
CM - Qobuz
JAZZ'HALO (BE)
In recent years, piano-trios have multiplied, but here is a real discovery.     
Amaury Faye was born in Toulouse in 1990. Very quickly, he shot in his native region and, in 2010, recorded a first album, Big Moe Trio with Louis Navarro on bass and Pierre Ardré on drums.  In 2014, he joined Berklee College in Boston, where he studied with Joanne Brackeen, a true reference in American jazz: pianist for the Jazz Messengers, she also recorded with Branford Marsalis (Fi Fi Goes to Heaven), Chris Potter and Dave Liebman (Arkadia Jazz) or trio, with Eddie Gomez and Jack Dejohnette (Ken Music).  In March 2015, Amaury received the Berklee Jazz Performance Award for best pianist of the year. In the process, the young French pianist won the Tremplin du Jazz d'Avignon and was awarded the Tremplin Vannes Focal Jazz Vienna.  In addition to his work as a leader, he is part of Initiative H, a 12-piece band led by saxophonist David Handrechy, who has recorded two albums: Deus ex machina and Darkware. 
For some time he has settled in Brussels. Also, can we hear it in the Vogue Trio bassist Giuseppe Milaci, a student of Jean-Louis Rassinfosse and Philippe Aerts: this trio will be touring Belgium in November.  For Clearway, Amaury Faye finds her former accomplice, Louis Navarro. Born in 1991, he first devoted himself to electric bass and funk, before enrolling in the jazz class of the Conservatoire de Toulouse and pursuing courses with Hein van de Geyn and Pierre Boussaguet.  On the drums, Théo Lanau: born in 1990, like Amaury, he discovered jazz at the College de Marciac, before enrolling at the Conservatoire de Paris and Brussels, which earned him to follow the teachings of Daniel Humair and Stéphane Galland. For some time now, he has been playing in Belgium with Manolo Cabras and rubbing shoulders with different musicians from Tricollectif.
Clearway includes 7 original compositions, An Oscar for threadwell by Charlie Parker (a theme recorded with Monk on the piano) and Witchcraft by Carolyn Leigh and Cy Coleman, a song often taken up by Frank Sinatra but also played by Bill Evans, in this spirit Songs without words dear to Fred Hersch. 
Throughout this repertoire, Amaury Faye combines a strong sense of rhythm and melodic lyricism (Witchcraft). Moreover, in the manner of Evans, he plays as much of the trio as the piano. Thus, Believe it or not opens with a brilliant intro double bass / drums, before leading to a splendid piano solo but also conb bass. On Clearway Street, it is the drums that introduces the theme and Off roading is the bass on a rhythm removed. 
On Sunday morning blues and An Oscar for threadwell, a very bop theme, are played on a removed tempo, Bad surprise and Vence grow on a quieter pace, with Theo Lanau brooms.  As for Journey to the Eastcoast, which closes the album, the theme sees its tempo evolve and accelerate over time. 
Obviously, Amaury Faye combines technique and inspiration both in the game and writing.  A very nice album.  For the moment, concerts of the trio are planned in France (Vienna, Vannes, Avignon, Marciac: detailed calendar on the site of Amaury Faye). The trio will tour Belgium in March 2018 (Jazz Tour).
Claude Loxhay

JAZZENZO (NL)
The French piano trio of Amaury Faye, based in Brussels, won the first prize at the prestigious competition of the Jazz à Vienne festival, and the trio were allowed to use Erik Truffaz's studio for two weeks to make a debut." The result sounds promising and especially capped. in the American tradition.
Amaury Faye grew up in the South of France. There he had the good fortune to go to study with David Haudrechy (Archie Shepp, Rick Margitza) who immediately included him in his group Initiative H. But Faye wanted his own thing and since that was American jazz, he went for a year to Berklee in Boston. On his return he went to Brussels where he met drummer and countryman Théo Lanau. Bassist Louis Navarro, who lives in Amsterdam, he knew from the conservatory in Montauban. The Amaury Faye Trio could start.
A city map is shown on the cover of 'Clearway'.No real need to find your way back into the jazz region where the trio is active. The three remain within the framework of a classic American jazz tradition. Experiment drift with electronics and crossover exercises are completely foreign to them. The emphasis is on carefully balanced compositions that are expertly colored. Nowadays, in the midst of all hypes, this is almost considered as not done, but these three young musicians refute such an assertion with verve.
From soul jazz and smooth swing from the opening track to the more unruly ending with different tempo changes, this is a handsome and above all personal ode to a past but with a modern approach. The two standards 'Witchcraft' and Charlie Parker 'An Oscar For Treadwell' perfectly complete the picture. Amaury Faye has a smooth playing style in which modesty and blues alternate with more direct impulses. His rhythm section follows him closely, with his own accents. A trio to keep an eye on.  
Georges Tonla Briquet