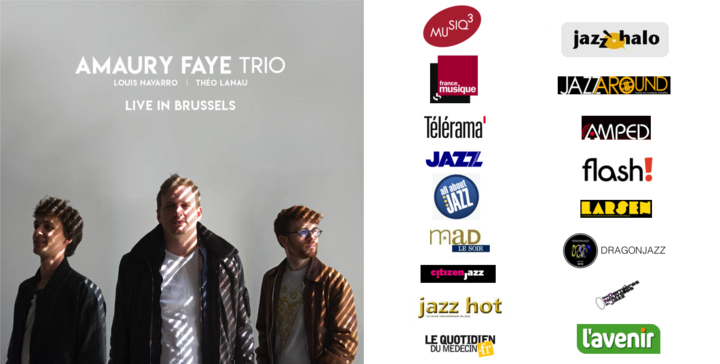 ALL ABOUT JAZZ (USA)
Amaury Faye honors a long tradition of ivory-ticklers from Bill Evans to Fred Hersch with a combination of restlessness and respect: the moods and modes are familiar, though those influences are really just a launching point for a sound noticeably more modern. This band takes their greatest cues from those forbears when it comes to playfully unpredictable interplay, and their classy European sensibility still doesn't stop things from reaching an occasional boil. 

Faye sounds misleadingly easygoing as Live in Brussels kicks off, holding a patient pattern as his trio-mates shade the trance with non-static vamps. By the time they've gently swung through a surprisingly harmonic Thelonious Monk piece and followed with the aptly-titled "Fascinating Rhythms," the leader's right hand takes over with some nimble capering at too-much-caffeine speed. The jitters soon infect the others until everyone's hopping like mad—and yet sure enough, at the next turn, they're downshifting to a smooth romantic ballad for a mid-set interlude. 
Louis Navarro and Théo Lanau are happy to join in the rhythmic games, bouncing through bouts of skewed harmonies and helping build each piece with a keenly deliberate ear for structure. Most impressive is "The Old Escalator," which almost chugs to a halt like the sound of a rusty machine itself before they get everything back into smooth working order. This release is only the start of a cycle, projected to be followed by several other live recordings in other European capitals. It'll be a fascinating pleasure to see how the group is shaped by each place as they go. 
Geno Thackara
TELERAMA (FRA)
 ENGLISH TRANSLATED
A clear language, harmonies where to wander as in a labyrinth rigorously drawn, a rhythmic vivacity without aggression ... The music composed by the young pianist Amaury Faye is enough to delight fans of a modern jazz devoid of avant-garde excesses. The recently released Live in Brussels gives a good idea of it as well as the desire to hear this repertoire on stage.
Louis-Julien Nicolaou
JAZZ MAGAZINE / JAZZMAN (FRA)
 ENGLISH TRANSLATED
A year after the label "Revelation" awarded by our magazine for his first record, the winner of Rezzo-Focal Jazz Vienna 2016 is back with live in brussels (hypnote records - 2018). A confirmation on the spot, or the efforts of the trio to get out of the influence of Brad Mehldau begin to bear fruit. Efforts that do not hurt the pleasure of listening to Fascinating Rhythm, for example, where the trio seems to take the title literally, whether it be in solo piano or all together.
Ludovic Florin
LE SOIR (BE)
 ENGLISH TRANSLATED
The new album of a trio of French who settled in Brussels. The album was recorded at the Jazz Station in March 2018 in a room enthused by an adventurous trio and classic at the same time, to the pianist evansian or monkian depending on the context, with a repertoire made of originals songs or standards composed by Kern, Gershwin and Monk. These three artists know how to swing.
In "Fascinating Rhythm", the complicity and osmosis of Amaury Faye's piano, Louis Navarro's double bass and Theo Lanau's drums are exquisite. It's dynamic, intense, inventive and made with taste. I'm not talking here only about notes, but the general impression that music makes on listeners: it's the "knack", the thing that makes this trio captivating us and taking us on its musical journey. And this is not the only track where this magic works. Everywhere, the fairy sent her spell, and that's good for us.
Jean-Claude Vantroyen
L'AVENIR (BE)
 ENGLISH TRANSLATED
The first album in a series of five "live" recordings made in five capitals. Quickly revealed in Belgium, notably in the Giuseppe Millaci Vogue Trio, Amaury Faye delivers an exceptional performance here, served by a high-end rhythm. If the pianist impresses with his disconcerting virtuosity and his sense of improvisation (Fascinating Rhythms, Ilex), he also demonstrates a perfect mastery of slow tempos, testify Ugly Beauty (Thelonious Monk) and They Didn't Believe Me. Si Live in Brussels makes a wink in complex to the series of Art of Trio of the American pianist Brad Mehldau of which Amaury claims a strong influence, a singular identity emerges from this trio and invites us to follow it in the discovery of new spheres. Follow very closely.
Jean-Pierre Goffin
ACADEMIE DU JAZZ (FRA)
 ENGLISH TRANSLATED
This album is the first opus of a project which must count five, recorded live, and be part of a 'Road Trip Musical', in constant progress, over five years and in five European capitals. Nice program in the making.  The construction and energy developed on the progressions of 'Fascinating Rhythm', amazing freshness and spontaneity, (it's the advantage of the live), the instrospective atmosphere conveyed throughout 'They did not Believe Me ', all lyric content, enough to make love this album! The rest is the same, from Monk's homage to 'Ugly Beauty' to the twilight throbbing of Interlude's long intro and to Ilex's premium novelty.  No doubt, we are dealing with a Musician (he turns out to be a kid, he was a disciple of Joanne Brackeen at the Berklee College of Music, from where he came out with a Jazz Performance Award, prize for the best pianist of the year ... tell me so much!) and a trio of excellence.  Welcome, Mister Faye!
Académie du Jazz
CITIZEN JAZZ (FRA)
 ENGLISH TRANSLATED
We've discovered the talent of Amaury Faye alongside Giuseppe Millaci and the very successful SongBook (Hypnote Records - 2017). Here he is with his own trio for a live album, recorded in Brussels, the first in a series of five discs to appear. A kind of musical road-trip, since each album will be recorded in a different European capital.  We must go back to 2014, in New York, to unearth the genesis of this trio. The French pianist first teamed up with New York bassist Cole Davis and London drummer Jonah Summerfield, before settling in Brussels in 2015. He then recruited two French musicians to continue the adventure. from the trio - Louis Navarro on bass and Théo Lanau on drums - and give it its current form. 
Over the seven tracks of this concert, we navigate between a jazz fully rooted in its traditions with the mastered standards of George Gershwin, Thelonious Monk and Jerome Kern, and a contemporary creation that reveal four compositions by Amaury Faye. The pianist is illustrated in an improvisational speech that is surprising and knows how to respond to the unexpected, and also demonstrates a real talent for writing. Meditative titles, deep, free, striking melodies that dare all the stylistic paths, all served to an excited and fascinated audience that can be heard in the background, very enthusiastic. 
The rhythm section of the trio stays on course and meets all the challenges with remarkable ease. The whole is united and can sometimes start from a calm atmosphere that an intention will suddenly diffract to make burst forth a sound effusion, without ever getting lost, nor losing the listener.  A first test transformed, no doubt. Rendezvous somewhere in Europe for the second leg of a journey started on the run.
Raphaël Benoît
LE QUOTIDIEN DU MEDECIN (FRA)
 ENGLISH TRANSLATED

An absolute master - Keith Jarrett - and many disciples - the Norwegian Tord Gustavsen, the Polish Marcin Wasilewski or the French Amaury Faye - raise the instrument to the pinnacle. Mainly in "live".
[...]
The same goes for pianists and trios as singer: plethoric and, sometimes, a real revelation.
Amaury Faye is originally from Toulouse, France, and now based in Brussels. Joanne Brackeen's young student at the Berklee School of Music in Boston, where he won a prize for best pianist in 2015 and has accumulated countless awards, confirms with his first opus, Live In Brussels (Hypnote Records - 2018), its most promising pianist status on the current jazz scene.
At the controls of his flawless trio - Louis Navarro, double bass; Theo Lanau, drums - the leader explores brilliantly the world of Thelonious Monk (Ugly Betty) and reads with spontaneity and a real freshness of the standards of J. Kern and G. Gershwin (Fascinating Rhythm). Without forgetting to deliver with lyricism and a virtuoso technique his own compositions.
The first CD out of five of a musical road trip that highlights a beautifully structured trio and high musical quality.
Didier Pennequin
JAZZ HOT (FRA)
 ENGLISH TRANSLATED
Amaury Faye was born in Toulouse in 1990. In 2013, he made a name for himself at the National Competition of La Défense, then, after having studied at Berklee with Joanne Brackeen, he won, in 2015, the Berklee Jazz Performance Award which rewards the best pianist of the year. He then decided to move to Brussels. His compatriot, Théo Lanau, also chose to settle in the Belgian capital while Louis Navarro was domiciled in Berlin. In this live album recorded at the Brussels Jazz Station, the young pianist, from the very first piece ("Yosemite"), affirms his knowledge of the immediate classical composers that he juxtaposes to the rhythmic canons of jazz. Monk's Ugly Beauty inevitably brings to mind the best of Brad Mehldau. Gershwin's Fascinating Rhythm is beautifully introduced by a fast and unbridled solo, then the left hand punctuates the speech with brief, contrasting breaks. After the presentation of the theme, the bassist asserts his adequacy and the accomplices fly away, brilliant. Excellent drum solo, trio revival boosted, then lyrical appeasement. Those are eleven beautiful minutes! Return to calm with a very nice They Did not Believe Me (Jerome Kern) continued by Interlude in piano legato on a long ostinato in the right hand, accelerated then amplified; colored by the drummer and finished by the bass which, reassured, rushes from walking on the old escalator (The Old Escalator). Liaisons, breaks, mutations, rhythmic and melodic progressions: those are intense moments that are going on crescendo. Surrealism? Magritte is close! To thank a conquered audience, Ilex is played in closing. Partially accompanied by hands on the skins, it allows Louis Navarro to wave with a beautiful solo. Who made you think they did not believe you, dear Amaury? Rest assured, we believe you note after note and we appreciate your way of being in the depth of feelings!
Jean-Marie Hacquier
JAZZ'HALO (NL)
 ENGLISH TRANSLATED
This French piano trio aims to familiarize itself with the dialectic of the classical class and to enrich it with personal interpretations. A perfect idea was to record their second CD live. They chose the Brussels Jazz Station, known for its good acoustics and an ever attentive audience. With the opener they join the current wave in the wake of The Bad Plus but know there are still separate turns to indicate. Monks 'Ugly Beauty' becomes an intimistic and lyrical ballad. Via Gershwin's 'Fascinating Rhythm' they go even further back in time, more specifically to the Art Tatum school. At least during the intro because after a few minutes it goes fast.  For an hour they know how to captivate their audience. Their sometimes unexpected impulses and strongly divergent associations form favorite track changes. This is how they mark their terrain within a crowded zone.
Georges Tonla Briquet
ENGLISH TRANSLATED
Amaury Faye studied at Berklee College in Boston, under the direction of Joanne Brackeen, pianist Stan Getz, Dave Liebman or Charles Lloyd.
In 2015, he was crowned Best Pianist of the Year, following awards at the Vienna Film Festival and Avignon. Based in Brussels since 2015, he is part of Vogue Trio for bassist Giuseppe Millaci, with Lionel Beuvens on drums. This Vogue Trio has earned the Octave of Music, recorded Songbook, also on Hypnote, and is invited for a tour in Japan.
In France, Amaury Faye formed a first trio (Big Moe Trio) with Pierre André on drums and Louis Navarro on double bass.
Then he formed this one, always with Louis Navarro, bassist graduated from the Conservatory of Toulouse and who followed masterclasses with Larry Grenadier, Hein Van De Geyn and Claute Tchamitchian and this time with Theo Lanau on drums. After discovering jazz at the Collège de Marciac, he enrolled at the Conservatoire de Paris and Bruxelles: he took classes with Serge Lazarevitch and Stéphane Galland. He is also part of Brilliant Corners, with saxophonist Sylvain Debaisieux.

With this trio claiming mainstream jazz, Amaury Faye first engraved Clearway, a series of original compositions to which is added a Parker classic. For this Live in Brussels recorded at the Jazz Station, he proposes four personal compositions, and three classics: Monk's Ugly Beauty, Gerschwin's Fascinating Rhythm and Jérôme Kern's They Do not Believe in me.
A recording tailored for this live recording, synonymous with energy and spontaneity. What strikes him at first listen is the feverish passion with which he approaches the themes, sublimating the melody by a tempo of hell, for which he can count on the interactivity of his rhythm (Yosemite, Fascinating Rhythm, The old escalator with beautiful bass solo and Ilex with intro drums). Which does not mean that he can not make the most of ballads (They Do not Believe in Me) or integrate the rhythmic world of Monk (Uggly Beauty). In the middle of the album, Interlude presents itself as an impressionist solo barely punctuated by cymbals. A very beautiful album.
Claude Loxhay
JAZZAROUND (BE)
 ENGLISH TRANSLATED
Based in Brussels for three years, the French pianist Amaury Faye has quickly revealed itself in the Belgian jazz landscape. It was mainly discovered in the bassist group Giuseppe Millaci with Lionel Beuvens on drums, a trio that has emerged as one of the recent revelations with the album "Songbook" rewarded by the Point Culture Award to the Octaves of the Music 2018. Before his arrival at Plat Pays, the pianist went through Berklee College in Boston where he studied with Joanne Brackeen - a magnificent pianist notably with Joe Hendreson and Stan Getz, after which she began a career as a soloist with many discographical references. Amaury Faye also won several awards at the Tremplin Jazz in Avignon and Jazz in Vienna. Here is his first album in trio with Louis Navarro on bass and Théo Lanau on drums, the latter already very present on the Belgian scene with appearances with Laurent Blondiau, Sylvain Debaisieux, Bart Maris, Lynn Cassiers and others. A first album far from being the last since the pianist already announces a series of five recordings with this trio in five European capitals and spread over five years. The idea does not lack originality and already titillates our curiosity and our impatience to hear what will follow so much the quality of this first recording is real and even exciting.
Four personal compositions and three standards compose this recording in public performed at the "Jazz Station", Chaussée de Louvain in Brussels. From the outset, Yosemite sets the tone for an original game based mostly on European influences with a sustained rhythmic scansion that keeps you going from start to finish. The concert then follows the three standards: Ugly Beauty by Thelonious Monk reviewed in a soothing climate, contrasting with Gershwin's Fascinating Rhythm removed at a very fast tempo with a ease that makes you forget the tricky side of the exercise. They Did not Believe Me by Jérôme Kern, a magnificent melody taken by Frank Sinatra and Dinah Washington among others, is literally sung by the piano for almost ten minutes. Follows Interlude that maintains the peaceful climate of the previous theme in a darker "classical music" spirit until the final crescendo. The significance of the leader's musical staging and his appropriateness in the construction of the concert will be emphasized by this seamless sequence with the explosive The Old Escalator. Ilex closed the concert lightly with a touch of fantasy in the rhythmic changes and interventions of his precious partners Theo Lanau and Louis Navarro. We will iron for a long time this beautiful concert Brussels pending the rest of this European journey. 
Jean-Pierre Goffin
AMPED (USA)


FLASH! (FRA)
 ENGLISH TRANSLATED
Originally from Toulouse, pianist Amaury Faye delivers us, with his trio composed of Louis Navarro on bass and Théo Lanau in the drums, a new album. Registered in last March in Brussels, these seven titles plunge into the lush universe of the trio. A range of games and styles follow one another naturally and subtly throughout the album. We sail in unlimited spaces daydream without leaving a certain heat and an intimate atmosphere. The virtuosity of three musicians is unmistakable. But she does never watch himself play Always she is at public service. Even in the passages more classic risk taking and excess related to live recording are apparent and allow the public to vibrate.
T.B.
LARSEN (BE)
 ENGLISH TRANSLATED
French pianist installed in Brussels, Amaury Faye became known through his participation in Giuseppe's album Millaci, Songbook, Octave of Music Culture Point 2018. Sound first album in leader announces a series of five records "Live" made in five European capitals. Four compositions personal and three standards make up this recording directed at the Jazz Station from Brussels. From the outset, Yosemite sets the tone an original game founded especially on influences with a rhythmic scansion supported which keeps on breath from end to end. The three standards - Ugly Beauty (T. Monk), Fascinating Rhythm (G. Gershwin) and They Did not Believe Me (J. Kern) - demonstrate how much the pianist plays with happiness on the rhythms and the colors.
Jean-Paul Goffin
DRAGONJAZZ (BE)
 ENGLISH TRANSLATED
Originally from Toulouse, pianist Amaury Faye founded his band in Brussels where he is also known for playing in the Vogue trio of bassist Giuseppe Millaci, whose first album, Songbook (Hypnote Records, 2018), was recently praised in these pages. Alongside his compatriots, bassist Louis Navarro and drummer Théo Lanau, he presents here his own music that he had already exhibited last year in Clearway (PIAS Jazz Village - 2017), a first album financed by a victory at the Tremplin RéZZo Focal Jazz in Vienna in 2016. The difference is that this disc is captured without a net in concert, Amaury having decided to record live in different European capitals a series of five albums of which Live In Brussels is the first.
The repertoire includes seven titles, three of which are covers. Ugly Beauty (which appeared on Thelonious Monk's Underground album) is a singular ballad in Monk's catalog since it's the only waltz he's ever written. The "inhabited" aspect of this composition is well preserved here in a nuanced interpretation. George Gershwin's Fascinating Rhythms receives an original treatment with an eruptive introduction played by the solo pianist. As for Jerome Kern's They Didn't Believe Me, it's a typical standard and another ballad for trio art that others before Amaury Faye (Brad Mehldau and Keith Jarrett in particular) knew. so well bring to the pinnacle. The four other titles, all composed by the leader, attract attention both by their themes and their interpretations. The improvisation is largely solicited by the three accomplices who sometimes take the pieces in unexpected regions: Yosemite, which begins as mainstream jazz is thus, after a long double bass solo, gradually drowned in a whirlwind of sustained notes and rhythms that abruptly stop abruptly. It's unexpected and cool and the audience of the Jazz Station does not make a mistake by applauding the performance of the trio. If Ilex is more like bop, The Old Escalator confirms the original approach of this trio and the virtuosity of the musicians. Risk taking is total and the energy produced by this constantly evolving music maintains a pressure that makes the listener leap onto his seat at the shattering pace of this exceptional drummer, Théo Lanau.
Live In Brussels confirms that the trio of jazz piano is far from having said everything. Combining a European approach that translates into a touch of lyricism with another more experimental inherited from the contemporary New York scene, Amaury Faye is part of a line of pianists who have plenty to tell. In writing this, Andrew Hill, Vijay Iyer and Brad Mehldau, whose styles are quite different, are three names that came to my mind. Rather exciting, no?
Pierre Dulieu
LES DNJ (FRA)
ENGLISH TRANSLATED
"The Brussels based trio (with South-West French partners) of Amaury Faye, a young french pianist from Toulouse, passed by Marciac College, Berklee College in Boston, and multi-award-winning in the springboards (Avignon, Vannes, Vienne) and elsewhere (Germany, USA). Second album of this group, after Clearway (PIAS - Jazz Village, 2017), this concert recording made by the Belgian National Radio (RTBF), perfectly renders justice to the art of the trio. This was happening at Brussels's top jazz venue, the Jazz Station, set up in an old train station on the Chaussée de Louvain.
In this trio, no unwanted effects, a course of musical rigor, of feeling and interactivity between the three instrumentists, in short all that it is necessary to appreciate the canonical trio piano-bass-drums in its original truth. We begin with a kind of heterodox waltz, tense between the rhythm of its theme and a kind of falsely angular ostinato that determines the exact dramaturgy of the composition. After the double bass in the first role, the piano escapes to the second beach, where the trio plays a waltz, little more orthodox, Thelonious Monk: Ugly Beauty. Respect for the text, then free evansian strolling. It must be said that the pianist was in Boston the disciple of Joanne Brackeen, high priestess of a certain lyricism: depth without ostentation, everything is said.
Change of register with the following theme: Fascinating Rhythm, engaged by an almost tritanian solo before collective takeoff, after two minutes, following now the tracks of the theme, but to emerge soon. Then comes a very old standard, ten years prior to the previous one, They Did not Believe Me, composed by Jerome Kern. Collected version, dense harmonies, expressive and melancholic phrasing, short of this form of timeless beauty that crosses the history of American music through jazz. This will be followed by an interlude of a dark and beautiful atmosphere, which is linked to the following theme, rhythmic and convincing, without these groove groove facilities that we hear for about two decades, and where the hypnotic aspect takes the place of 'inspiration. Here the density of the form, of the unfolding, and the finesse of the development, lead us on other paths, rich of imagination and surprises. And the album concludes with a kind of waltz that will change rhythm (and tempo), return to the source to complete the loop: beautiful coda shaped pirouette that reveals, behind the desire for accomplished music, endurance of thought."
Xavier Prévost