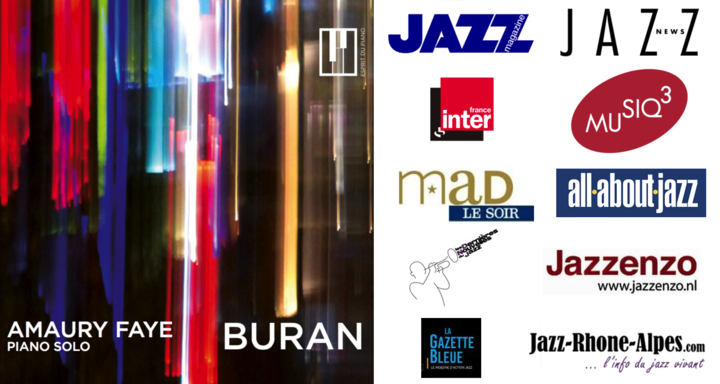 ALL ABOUT JAZZ (USA)
There is no greater leap of faith for a musician than to leave the relative security of a band (with its fresh input of ideas and, let's face it, handy support when they mess up) and go down the solo road. And yet, especially for a pianist who claims Brad Mehldau as his primary inspiration, it is a mountain that is too tempting not to climb. For listeners, they also discover something new. If they were familiar with the conversationalist, now they get to meet the orator, and can explore the unfiltered plains of their imagination, swooping with the currents and braving the storms.

Buran ('Snowstorm' in Russian) is a reference to an abandoned soviet space program in the 70s, and a rather cryptic tribute to the artist's parents. He may originally hail from sunny southern France, but there is certainly something of the turbulent blizzards of the Siberian expanse in Amaury Faye's first solo effort, from the dense, brooding melodies of the title-track to the breakneck speed of Follow the Fox, whose swinging, rapid-fire counterpoint carries listeners through whirlwinds of colour and texture.

Ebullient dexterity is on display again in the boppy Iberian Waltz, throughout which listeners are regaled with upper-register virtuosic eruptions. But after a storm always comes a calm, and where Faye often excels is in the lighter melodic explorations that encapsulate his sense of sophisticated lyricism. Ballad Pour Izia, one of three covers on the album, showcases that appetite for the simple melodies of pop tunes, albeit with a harmonic makeover. Later he captures the pathos of a bare-bones ballad with remarkable poignancy on his cover of the theme from The Persuaders by film-score composer John Barry. Unquestionably a highlight of the album.

For those familiar with his trio work, it comes as no surprise that Faye is venturing into new territories and doing so with brio. Buran is an impressive debut from the Berklee graduate. Its kaleidoscopic collection of pieces offers surprise, punch, and introspection in equal measure. With the insight, experience, and maturity that time confers, expect many more such achievements from this young pianist, whose 30th birthday is barely behind him.
Luke Seabright
JAZZ MAGAZINE / JAZZMAN (FRA)
 ENGLISH TRANSLATED
After Clearway (2017) and Live In Brussels (2018) in trio, here is for Amaury Faye, as for so many pianists, the moment of the acting solo, on a repertoire almost entirely original. In doing so, he works to free himself from the influence of Brad Mehldau, to cultivate his taste for a dense, intense (Buran) piano, physical and technical (Follow the Fox), sometimes drenched in lyricism (The Persuaders ) and sitting on impeccable traditional bases (The Temptation Rag). A decisive step towards the affirmation of a personal universe, and an album with a very careful realization.
Vincent Cotro
JAZZ NEWS (FRA)
 ENGLISH TRANSLATED
He dared to jump into the void, according to his words transcribed in the booklet, and raise at 28 years the challenge of the solo. On the Piano Spirit label, Amaury Faye presents a powerful, lyrical, panting program. His original compositions are complemented by pieces by Jacques Higelin and John Barry. We discovered the native Toulouse trio on the stage of Jazz in Vienna which he was the winner Rezzo / Focal 2016, we saw him engaged in the orchestra Jazz In Marciac 2018 conducted by Baptiste Trotignon, facetious on stage at in the Initiative H collective of David Haudrechy. We are seduced here by his voluble play, his search for the plain, a saturated space in the manner of a blower. An album with a timeless beauty.
Alice Leclercq
LE SOIR (BE)
 ENGLISH TRANSLATED
Amaury Faye is from Toulouse and is 28 years old. He did a lot of work in Belgium, with his trio, and recorded a live album at the Jazz Station of Saint-Josse, Live In Brussels, which we said the greatest good. With Buran, he moves on to another discipline, again, I think, more difficult than this one of the piano trio: the solo piano. There, no ramp to support each other, accomplices to catch up. Everything is in his hands and in his head, everything is in itself. "The solo is for me a laboratory through which I can experience my most personal way of playing," says Amaury Faye in the notes to the record. He adds, "It's a formula where you can never cheat, never lie to yourself. Neither to the listener. Personal compositions and three times (by Higelin, Barry and Lodge). And a dense record, where Amaury Faye remembers classical and pop to subject them to jazz. It is a demanding album, very well built although it is often improvised, very sophisticated, and very easy to listen to at the same time. We just have to let go, we listen, we are caught in a spiral of discoveries and surprises, we dream, we fly.
Jean-Claude Vantroyen 
JAZZENZO (NL)
 ENGLISH TRANSLATED
Georges Tonla Briquet Jazzenzo was already positive about his first trio CD. The follow-up 'Live In Brussels' and his contribution to 'Songbook' by Giuseppe Millaci & Vogue Trio also demonstrated class. The French pianist Amaury Faye reinforces his position with the solo CD 'Buran':
"Only behind the piano: dream or nightmare, depending on the performer. It is an obligatory test that almost every pianist is confronted with.

What else do you add to this style exercise after Keith Jarrett, Fred Hersch or Craig Taborn to name but a few. Faye is not burdened by this heavy legacy. He does what he has to do and that is to express feelings in his appropriated dialectic. How does that ultimately sound? The eleven minutes long opener, the title piece 'Buran', summarizes it all. No tsunami of nuts or unnecessarily complex constructions. Against a dark background, he lets a repetitive motif slowly move on and regularly adds a small ornament to it. Nothing earth-shattering but extremely effective and intriguing. 
Just over an hour long, Faye unfolds delicate scores and flirts with classical and apparently known melodies. Whenever a moment of recognition appears to emerge, it changes direction. Just listen to 'Iberian Waltz' - one of his own compositions - and try to figure out what you think of that. And how long did it take before you recognized the theme of 'The Persuaders' from the eponymous TV series of the time. When you think the CD is finished, a bit of ragtime pops up as a kind of hidden track .

For those who only listen to hip references, we quote names like Nils Frahm, Joep Beving and Sebastian Plano. Fortunately Faye is not blinded by this wave of fashionable piano stars. He effortlessly pierces that myth. The named names only serve as a guide. Faye continues the lines much further."
Georges Tonla-Briquet
JAZZ RHONE ALPES (FRA)
 ENGLISH TRANSLATED
Already invited to this club in February 2018 with his Trio, the Toulouse Amaury Faye confided to us having particularly appreciated the intimacy of the place. He comes back tonight with pleasure to present and "test" his latest personal creation, the "Buran" solo album.
Since the release of the first trio CD in 2010, he was only twenty, two other trio albums followed, not to mention those in sideman or guest. No break either on the development side since the Berklee School in Boston welcomed him in 2014 and awarded him in 2015 nothing less than the prize for the best pianist and the best jazz performance of the year. The prizes and concerts are also linked in France on the stage of Cybele in Vienna in 2016 or the big stage of the Theater Antique Vienna July 13, 2017 for the "All Night Jazz" and on the world stages.
Amaury Faye tells us that she has taken advantage of this solo project to escape some of the influences of the New York scene that she has in store for the Trio, to get closer to European trends and to develop her desire for writing closer to contemporary music. Except for three titles, Ballade for Izia by Jacques Higelin, The Persuaders by John Barry and The Temptation Rag by Henry Lodge, all the compositions of the album are by the author.
He is back to us tonight "hot-boiling", with ideas full fingers, his head full of keys, springs and hammers! The auditor of one evening is a little jostled, seeing himself promoted a little early jury of a prestigious international competition. This small downside of the first moments apart, we are gradually allowed to initiate and inevitably seduced by this beautiful musical vivacity, a powerful touch that knows how to mix with velocity all at once complex harmonies, sophisticated rhythms, and aerial arpeggios. On the occasion of a lighter ballad one also understands the musician able of a beautiful poetic of the emotion. A strong personality and a music that we will know how to discover in the long term, some of his wealth can escape a first listen.
The title of the album "Buran", a snow storm in Russian, is sufficiently evocative to put us on the right track of approach. Dense music made up of clever storms, distant volcanic eruptions, sparkling lava flows, seismic aftershocks, fine flames, melting snow, light breezes and starry skies.
With a huge baggage and such a course at only twenty-nine years, this artist promises us beautiful musical emotions for the next years! You can already find Amaury Faye in trio at Lyon 5th in a new Festival dedicated to contemporary music "Superspectives" on Sunday, June 30 at 4 pm at Maison Lorette 42 Montée St Barthélémy (Lyon 5th).
"Velvet and dynamite"? . . . (*)
On one of the attached photos, you will discover how, "without the knowledge of the free will of the photographer's right index", the framing came to capture the eye of Oscar Peterson very impressed by the
"Newcomer" at his exit from the stage. Would the walls speak better than your columnist one evening? Adopted! "Velvet and dynamite!" Does not make a good fall to this chronicle. . . ?
Jean-Pierre Jacquot