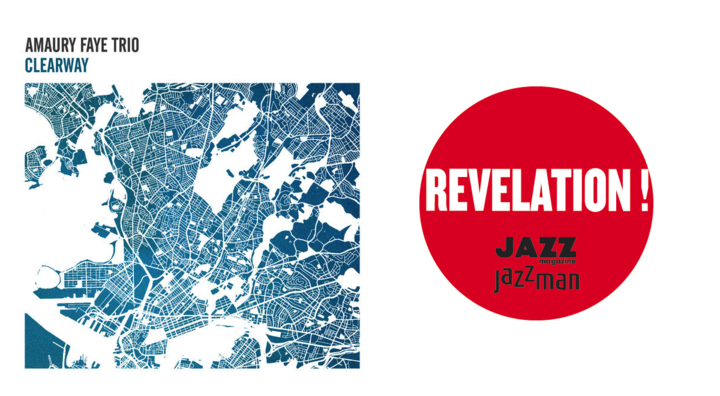 Amaury Faye Trio's first album Clearway (Pias-Jazz Village 2017) has been awarded with a "Revelation!" label by famous french jazz magazine "Jazz Magazine". The journalist Vincent Cotro wrote the following lines:
"A french pianist born and raised in Toulouse, Amaury Faye is currently based in Brussels after coming back from a one-year stay in Boston where he's been awarded with the Berklee Jazz Performance Award in 2015. The following year, he's been able to record his first album thanks to the national competition Rezzo-Focal/Jazz à Vienne. This first album can be showned to everybody who considered that the art of trio has come to an end. The slow and complete assimilation of successive influences, from Garner to Mehldau and a long complicity with the bassist Louis Navarro are challenged by the drummer Theo Lanau, more invested in improvised music. 
The result, without an ounce of effects or electronics, releases a freshness and a delightful relaxation which results here or one as unexpected or eruptive solos. In Journey to the Eascoast, we can hear Brad Mehldau in the way left and right hands interact together. In Clearway Street, we notice the opposition between a first part based on rythms and energies and a second part delivering a different atmosphere combining beautiful melodies sometimes flirting with dissonance. After Vienne, Vannes, Chamonix and Avignon, the trio will play in Marciac Jazz Festival before heading to Canada for a tour featuring performances in Montreal and Rimouski. It is urgent to go discover it.
Vincent Cotro"