Amaury Faye Trio nominated Artist Of The Month on Bustle Music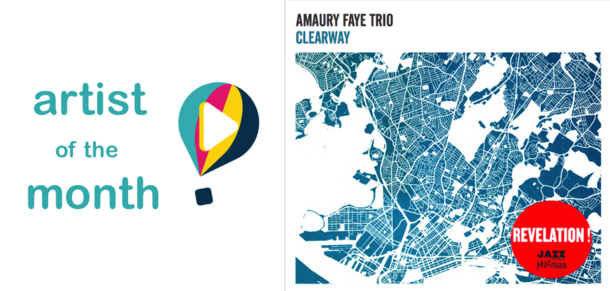 The Amaury Faye Trio has been nominated Artist Of The Month by the new streaming platform Bustle Music for its album Clearway (PIAS Jazz Village - 2017). 
"Bustle Music has been created by three music lovers also passionate by travelling: Cyrille, Benoît and Ludovic, following a quote of Platon: 'if you want to know a people, listen to his music'. Between 2012 and 2014 they went for two musical voyages: 'Bustle Around the World'. The idea to create Bustle Music came out whilst talking to musicians encountered halfway around the world." 
"We discovered him in Toulouse, his home town, few month ago and more recently in the Sunset Sunsise jazz club in Paris with his Trio. They played there for 3 hours, completely possessed by their instruments : Amaury Faye with his classic piano, Guillaume Prevost on his drum and Louis Navarro and his double bass, in this tiny jazz club. If you have the opportunity to see them, in France or in Belgium where they are touring, go for it. For now, you can discover him on Bustle Music."
Bustle Music about Amaury Faye.
For more informations about the platform, go on Bustle Music.