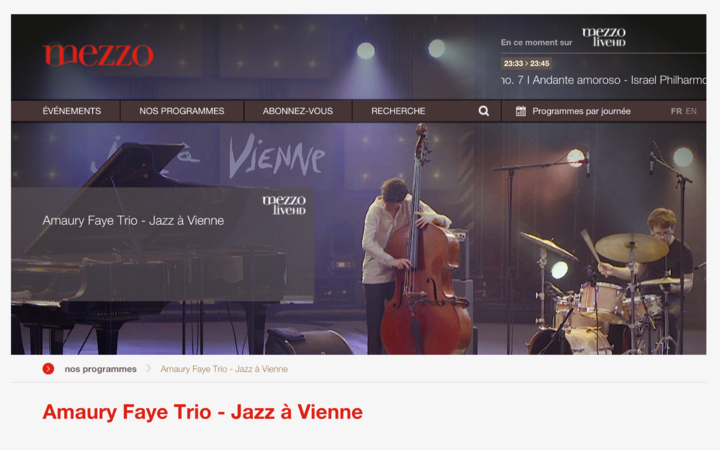 Broadcasts in April:
05/04 - 12h19 on mezzo live hd
07/04 - 04h11 on mezzo
08/04 - 01h27 on mezzo
11/04 - 17h02 on mezzo
13/04 - 02h59 on mezzo
15/04 - 13h30 on mezzo
20/04 - 01h25 on mezzo
23/04 - 23h40 on mezzo
"In keeping with the big piano trios and Big Moe Trio (in 2010), perfected from his Toulouse kingdom, the new project from Amaury Faye tells his story. He takes inspiration from artists on the contemporary New York scene and the latest trends in European jazz. Amaury Faye went to study at Berklee College in Boston with pianist Joanne Brackeen (Stan Getz, Dexter Gordon) and Tia Fuller (Joe Lovano) in 2014. The pianist is a member of the Toulouse-based Initiative H alongside his trio. Their repertoire includes original tracks and cool covers. There's a blend of improvisation and writing, virtuosity and finesse, lyricism and undulating beats. Faye is one to watch on the international piano scene and famous for his talents as both a soloist and composer. Amaury Faye, Louis Navarro and Théo Lanau put the heritage of the past into fuelling the future.
Recorded on 2017, July 13th at the Jazz Festival in Vienne
TV Director, Nicolas Micha"
For more information about the broadcasts, go on Mezzo's official website.