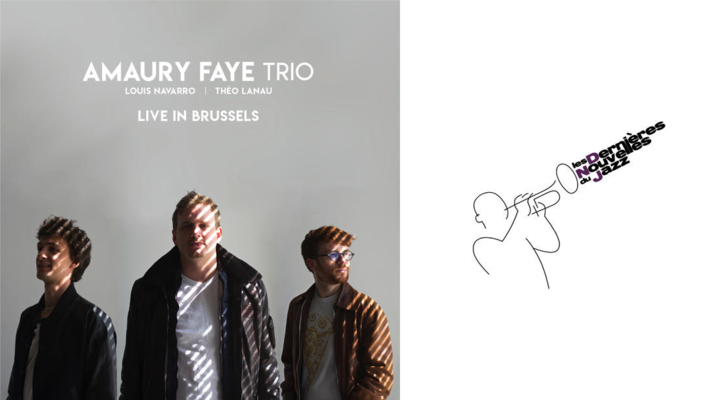 ENGLISH TRANSLATED
"The Brussels based trio (with South-West French partners) of Amaury Faye, a young french pianist from Toulouse, passed by Marciac College, Berklee College in Boston, and multi-award-winning in the springboards (Avignon, Vannes, Vienne) and elsewhere (Germany, USA). Second album of this group, after Clearway (PIAS - Jazz Village, 2017), this concert recording made by the Belgian National Radio (RTBF), perfectly renders justice to the art of the trio. This was happening at Brussels's top jazz venue, the Jazz Station, set up in an old train station on the Chaussée de Louvain.
In this trio, no unwanted effects, a course of musical rigor, of feeling and interactivity between the three instrumentists, in short all that it is necessary to appreciate the canonical trio piano-bass-drums in its original truth. We begin with a kind of heterodox waltz, tense between the rhythm of its theme and a kind of falsely angular ostinato that determines the exact dramaturgy of the composition. After the double bass in the first role, the piano escapes to the second beach, where the trio plays a waltz, little more orthodox, Thelonious Monk: Ugly Beauty. Respect for the text, then free evansian strolling. It must be said that the pianist was in Boston the disciple of Joanne Brackeen, high priestess of a certain lyricism: depth without ostentation, everything is said.
Change of register with the following theme: Fascinating Rhythm, engaged by an almost tritanian solo before collective takeoff, after two minutes, following now the tracks of the theme, but to emerge soon. Then comes a very old standard, ten years prior to the previous one, They Did not Believe Me, composed by Jerome Kern. Collected version, dense harmonies, expressive and melancholic phrasing, short of this form of timeless beauty that crosses the history of American music through jazz. This will be followed by an interlude of a dark and beautiful atmosphere, which is linked to the following theme, rhythmic and convincing, without these groove groove facilities that we hear for about two decades, and where the hypnotic aspect takes the place of 'inspiration. Here the density of the form, of the unfolding, and the finesse of the development, lead us on other paths, rich of imagination and surprises. And the album concludes with a kind of waltz that will change rhythm (and tempo), return to the source to complete the loop: beautiful coda shaped pirouette that reveals, behind the desire for accomplished music, endurance of thought."
Xavier Prévost
ORIGINAL
"Le trio bruxellois (avec partenaires du Sud-Ouest hexagonal) d'un pianiste toulousain passé par le Collège de Marciac, le Berklee College de Boston, et multi-primé dans les tremplins d'ici (Avignon, Vannes, Vienne) et d'ailleurs (Allemagne, USA). Deuxième opus de ce groupe, après Clearway (Jazz Village, 2017), cet enregistrement de concert réalisé par la Radio Belge Francophone (RTBF), rend parfaitement justice à l'art du trio. Cela se passait à la Jazz Station, haut-lieu du jazz bruxellois, établi dans une ancienne gare sur la Chaussée de Louvain.
Dans ce trio, pas d'effets intempestifs, un parcours de rigueur musicale, de feeling et d'interactivité entre les trois instrument(iste)s, bref tout ce qu''il faut pour apprécier le canonique trio piano-basse-batterie dans sa vérité originelle. On commence par une sorte de valse hétérodoxe, tendue entre le rythme de son thème et une espèce d'ostinato faussement anguleux qui détermine l'exacte dramaturgie de la composition. Après la contrebasse dans le premier rôle, le piano s'évade vers la seconde plage, où le trio joue une valse, guère plus orthodoxe, de Thelonious Monk: Ugly Beauty, respect du texte, puis libre déambulation evansienne. Il faut dire que le pianiste fut à Boston l'élève de Joanne Brackeen, grande prêtresse d'un certain lyrisme : profondeur sans ostentation, tout est dit.
Changement de registre avec le thème suivant: Fascinating Rhythm, engagé par un solo presque tritanien avant décollage collectif, au bout de deux minutes, en suivant maintenant les rails du thème, mais pour s'en affranchir bientôt. Vient ensuite un très vieux standard, de dix ans antérieur au précédent, They Didn't Believe Me, composé par Jerome Kern. Version recueillie, harmonies denses, phrasé expressif et mélancolique, bref de cette forme de beauté intemporelle qui traverse l'histoire de la musique américaine grâce au jazz. Suivra un Interlude d'une sombre et belle atmosphère, qui s'enchaîne au thème suivant, rythmique et convaincant, sans ces facilités du groove pour le groove que l'on entend depuis deux décennies environ, et où l'aspect hypnotique tient lieu d'inspiration. Ici la densité de la forme, du déroulement, et la finesse du développement, nous entraînent sur d'autres chemins, riches d'imaginaire et de surprises. Et le disque se conclut sur une sorte de valse dévoyée qui va changer de rythme (et de tempo), retour à la source pour boucler la boucle : belle coda en forme de pirouette qui révèle, derrière le désir accompli de musique, l'endurance de la pensée."
Xavier Prévost