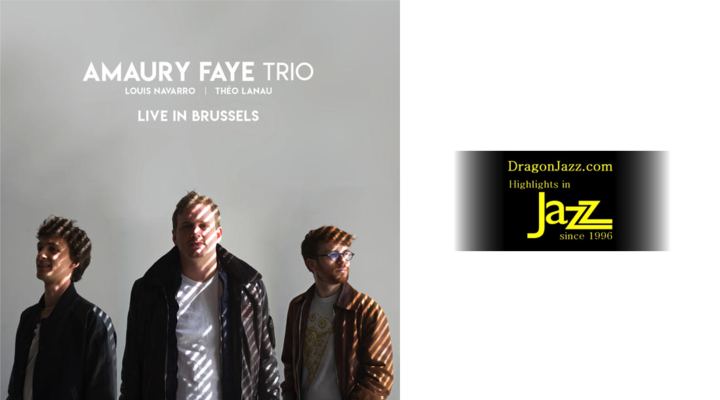 Live In Brussels (Hypnote Records - 2018) has been reviewed on belgian website DragonJazz and is featured in the best jazz albums selection of 2018.
ENGLISH TRANSLATED
Originally from Toulouse, pianist Amaury Faye founded his band in Brussels where he is also known for playing in the Vogue trio of bassist Giuseppe Millaci, whose first album, Songbook (Hypnote Records, 2018), was recently praised in these pages. Alongside his compatriots, bassist Louis Navarro and drummer Théo Lanau, he presents here his own music that he had already exhibited last year in Clearway (PIAS Jazz Village - 2017), a first album financed by a victory at the Tremplin RéZZo Focal Jazz in Vienna in 2016. The difference is that this disc is captured without a net in concert, Amaury having decided to record live in different European capitals a series of five albums of which Live In Brussels is the first.
The repertoire includes seven titles, three of which are covers. Ugly Beauty (which appeared on Thelonious Monk's Underground album) is a singular ballad in Monk's catalog since it's the only waltz he's ever written. The "inhabited" aspect of this composition is well preserved here in a nuanced interpretation. George Gershwin's Fascinating Rhythms receives an original treatment with an eruptive introduction played by the solo pianist. As for Jerome Kern's They Didn't Believe Me, it's a typical standard and another ballad for trio art that others before Amaury Faye (Brad Mehldau and Keith Jarrett in particular) knew. so well bring to the pinnacle. The four other titles, all composed by the leader, attract attention both by their themes and their interpretations. The improvisation is largely solicited by the three accomplices who sometimes take the pieces in unexpected regions: Yosemite, which begins as mainstream jazz is thus, after a long double bass solo, gradually drowned in a whirlwind of sustained notes and rhythms that abruptly stop abruptly. It's unexpected and cool and the audience of the Jazz Station does not make a mistake by applauding the performance of the trio. If Ilex is more like bop, The Old Escalator confirms the original approach of this trio and the virtuosity of the musicians. Risk taking is total and the energy produced by this constantly evolving music maintains a pressure that makes the listener leap onto his seat at the shattering pace of this exceptional drummer, Théo Lanau.
Live In Brussels confirms that the trio of jazz piano is far from having said everything. Combining a European approach that translates into a touch of lyricism with another more experimental inherited from the contemporary New York scene, Amaury Faye is part of a line of pianists who have plenty to tell. In writing this, Andrew Hill, Vijay Iyer and Brad Mehldau, whose styles are quite different, are three names that came to my mind. Rather exciting, no?
ORIGINAL
Originaire de Toulouse, le pianiste Amaury Faye a fondé son groupe à Bruxelles où il est aussi connu pour jouer dans le trio Vogue du contrebassiste Giuseppe Millaci dont le premier album, Songbook (Hypnote Records, 2018), a été encensé récemment dans ces pages. En compagnie de ses compatriotes, le contrebassiste Louis Navarro et le batteur Théo Lanau, il présente ici sa propre musique qu'il avait déjà exposée l'année dernière dans Clearway (PIAS Jazz Village - 2017), un premier disque financé grâce à une victoire au Tremplin RéZZo Focal de Jazz à Vienne en 2016. La différence est que ce disque-ci est capté sans filet en concert, Amaury ayant décidé d'enregistrer live dans différentes capitales européennes une série de cinq albums dont Live In Brussels est le premier.

Le répertoire comprend sept titres dont trois sont des reprises. Ugly Beauty (qui figurait sur l'album Underground de Thelonious Monk) est une ballade singulière dans le catalogue de Monk puisqu'elle est la seule valse qu'il ait jamais écrite. L'aspect "habité" de cette composition est ici bien préservé dans une interprétation toute en nuances. Fascinating Rhythms de George Gershwin reçoit un traitement original avec une introduction éruptive jouée par le pianiste en solo. Quant à They Didn't Believe Me de Jerome Kern, c'est un standard typique et une autre ballade propice à l'exposition d'un art du trio que d'autres avant Amaury Faye (Brad Mehldau et Keith Jarrett notamment) ont su si bien porter au pinacle. Les quatre autres titres, tous composés par le leader, retiennent aussi bien l'attention à la fois par leurs thèmes et leurs interprétations. L'improvisation est ici largement sollicitée par les trois complices qui emmènent parfois les morceaux dans des régions inattendues : Yosemite qui débute comme du jazz mainstream est ainsi, après un long solo de contrebasse, progressivement noyé dans un tourbillon de notes appuyées et de rythmes qui s'interrompent soudain de manière abrupte. C'est inattendu et frais et l'audience de la Jazz Station ne s'y trompe pas en applaudissant fermement la performance du trio. Si Ilex ressemble plus à du bop, The Old Escalator confirme l'approche originale de ce trio et la virtuosité des musiciens. La prise de risques est totale et l'énergie produite par cette musique en évolution permanente maintient une pression qui fait bondir l'auditeur sur son siège au rythme fracassant de ce batteur exceptionnel qu'est Théo Lanau.

Live In Brussels confirme en définitive que le trio de piano jazz est loin d'avoir tout dit. Combinant une approche européenne qui se traduit par un lyrisme à fleur de peau avec une autre plus expérimentale héritée de la scène newyorkaise contemporaine, Amaury Faye s'inscrit dans une lignée de pianistes qui ont plein de choses à raconter. En écrivant ceci, Andrew Hill, Vijay Iyer et Brad Mehldau, dont les styles sont pourtant bien différents, sont trois noms qui me sont venus à l'esprit. Plutôt excitant, non ?