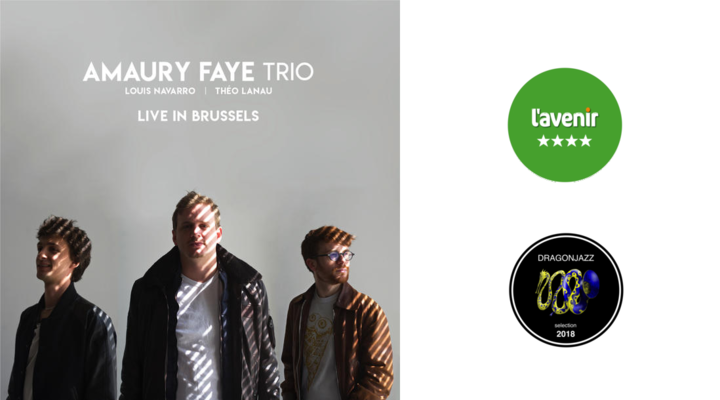 Live In Brussels (Hypnote Records - 2018) has been reviewed on belgian newspaper L'Avenir, awarded with 4 stars, and is featured in the best jazz albums selection of 2018 on belgian website DragonJazz.
L'AVENIR (BE)
ENGLISH TRANSLATED
The first album in a series of five "live" recordings made in five capitals. Quickly revealed in Belgium, notably in the Giuseppe Millaci Vogue Trio, Amaury Faye delivers an exceptional performance here, served by a high-end rhythm. If the pianist impresses with his disconcerting virtuosity and his sense of improvisation (Fascinating Rhythms, Ilex), he also demonstrates a perfect mastery of slow tempos, testify Ugly Beauty (Thelonious Monk) and They Didn't Believe Me. Si Live in Brussels makes a wink in complex to the series of Art of Trio of the American pianist Brad Mehldau of which Amaury claims a strong influence, a singular identity emerges from this trio and invites us to follow it in the discovery of new spheres. Follow very closely.
Jean-Pierre Goffin
DRAGONJAZZ (BE)
ENGLISH TRANSLATED
Originally from Toulouse, pianist Amaury Faye founded his band in Brussels where he is also known for playing in the Vogue trio of bassist Giuseppe Millaci, whose first album, Songbook (Hypnote Records, 2018), was recently praised in these pages. Alongside his compatriots, bassist Louis Navarro and drummer Théo Lanau, he presents here his own music that he had already exhibited last year in Clearway (PIAS Jazz Village - 2017), a first album financed by a victory at the Tremplin RéZZo Focal Jazz in Vienna in 2016. The difference is that this disc is captured without a net in concert, Amaury having decided to record live in different European capitals a series of five albums of which Live In Brussels is the first.
The repertoire includes seven titles, three of which are covers. Ugly Beauty (which appeared on Thelonious Monk's Underground album) is a singular ballad in Monk's catalog since it's the only waltz he's ever written. The "inhabited" aspect of this composition is well preserved here in a nuanced interpretation. George Gershwin's Fascinating Rhythms receives an original treatment with an eruptive introduction played by the solo pianist. As for Jerome Kern's They Didn't Believe Me, it's a typical standard and another ballad for trio art that others before Amaury Faye (Brad Mehldau and Keith Jarrett in particular) knew. so well bring to the pinnacle. The four other titles, all composed by the leader, attract attention both by their themes and their interpretations. The improvisation is largely solicited by the three accomplices who sometimes take the pieces in unexpected regions: Yosemite, which begins as mainstream jazz is thus, after a long double bass solo, gradually drowned in a whirlwind of sustained notes and rhythms that abruptly stop abruptly. It's unexpected and cool and the audience of the Jazz Station does not make a mistake by applauding the performance of the trio. If Ilex is more like bop, The Old Escalator confirms the original approach of this trio and the virtuosity of the musicians. Risk taking is total and the energy produced by this constantly evolving music maintains a pressure that makes the listener leap onto his seat at the shattering pace of this exceptional drummer, Théo Lanau.
Live In Brussels confirms that the trio of jazz piano is far from having said everything. Combining a European approach that translates into a touch of lyricism with another more experimental inherited from the contemporary New York scene, Amaury Faye is part of a line of pianists who have plenty to tell. In writing this, Andrew Hill, Vijay Iyer and Brad Mehldau, whose styles are quite different, are three names that came to my mind. Rather exciting, no?
Pierre Dulieu