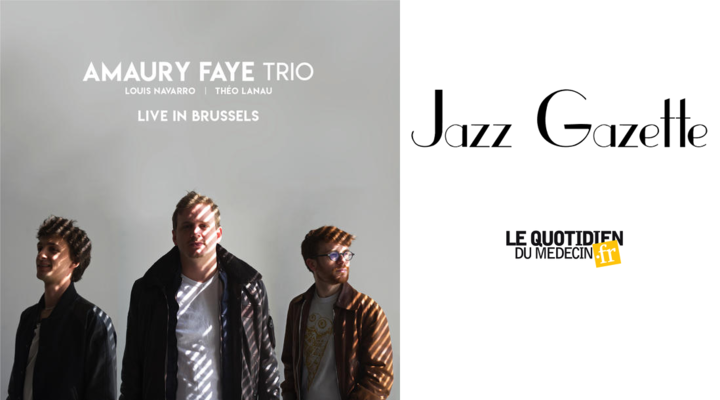 ENGLISH TRANSLATED

An absolute master - Keith Jarrett - and many disciples - the Norwegian Tord Gustavsen, the Polish Marcin Wasilewski or the French Amaury Faye - raise the instrument to the pinnacle. Mainly in "live".
[...]
The same goes for pianists and trios as singer: plethoric and, sometimes, a real revelation.
Amaury Faye is originally from Toulouse, France, and now based in Brussels. Joanne Brackeen's young student at the Berklee School of Music in Boston, where he won a prize for best pianist in 2015 and has accumulated countless awards, confirms with his first opus, Live In Brussels (Hypnote Records - 2018), its most promising pianist status on the current jazz scene.
At the controls of his flawless trio - Louis Navarro, double bass; Theo Lanau, drums - the leader explores brilliantly the world of Thelonious Monk (Ugly Betty) and reads with spontaneity and a real freshness of the standards of J. Kern and G. Gershwin (Fascinating Rhythm). Without forgetting to deliver with lyricism and a virtuoso technique his own compositions.
The first CD out of five of a musical road trip that highlights a beautifully structured trio and high musical quality.
Didier Pennequin
ORIGINAL
Un maître absolu - Keith Jarrett - et de nombreux disciples - le Norvégien Tord Gustavsen, le Polonais Marcin Wasilewski ou le Français Amaury Faye - élèvent l'instrument au pinacle. Principalement en "live".
[...]
Il en va des pianistes et des trios comme des chanteuses : pléthoriques et, parfois, une vraie révélation.
A l'image d'Amaury Faye. Originaire de Toulouse, installé en Belgique, le jeune homme - l'élève de Joanne Brackeen à la Berklee School of Music de Boston où il a obtenu un prix du meilleur pianiste en 2015 et qui cumule depuis de très nombreuses récompenses - confirme avec son premier opus, Live In Brussels (Hypnote Records - 2018), son statut de pianiste les plus prometteurs de la scène jazz actuelle.
Aux commandes de son impeccable trio - Louis Navarro, contrebasse ; Théo Lanau, batterie - le leader explore avec brio l'univers de Thelonious Monk (Ugly Betty) et relit avec spontanéité et une réelle fraicheur des standards de J. Kern et G. Gershwin (Fascinating Rhythm). Sans oublier de livrer avec lyrisme et une technique de virtuose ses propres compositions.
Le premier CD sur cinq d'un "road trip musical" qui met en lumière un trio admirablement structuré et de haute qualité musicale.
Didier Pennequin
©Gulgun Gherib