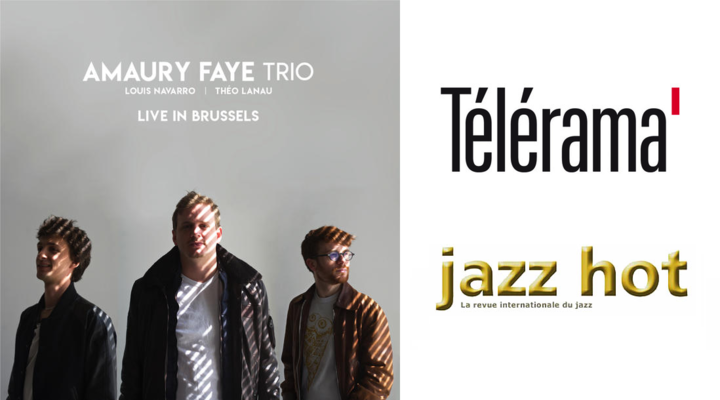 Live In Brussels (Hypnote Records - 2018) keeps garnering rave notices. French newspaper Telerama and french jazz magazine Jazz Hot wrote a few words on it:
TELERAMA
A clear language, harmonies where to wander as in a labyrinth rigorously drawn, a rhythmic vivacity without aggression ... The music composed by the young pianist Amaury Faye is enough to delight fans of a modern jazz devoid of avant-garde excesses. The recently released Live in Brussels gives a good idea of it as well as the desire to hear this repertoire on stage.
Louis-Julien Nicolaou
JAZZ HOT
Amaury Faye was born in Toulouse in 1990. In 2013, he made a name for himself at the National Competition of La Défense, then, after having studied at Berklee with Joanne Brackeen, he won, in 2015, the Berklee Jazz Performance Award which rewards the best pianist of the year. He then decided to move to Brussels. His compatriot, Théo Lanau, also chose to settle in the Belgian capital while Louis Navarro was domiciled in Berlin. In this live album recorded at the Brussels Jazz Station, the young pianist, from the very first piece ("Yosemite"), affirms his knowledge of the immediate classical composers that he juxtaposes to the rhythmic canons of jazz. Monk's Ugly Beauty inevitably brings to mind the best of Brad Mehldau. Gershwin's Fascinating Rhythm is beautifully introduced by a fast and unbridled solo, then the left hand punctuates the speech with brief, contrasting breaks. After the presentation of the theme, the bassist asserts his adequacy and the accomplices fly away, brilliant. Excellent drum solo, trio revival boosted, then lyrical appeasement. Those are eleven beautiful minutes! Return to calm with a very nice They Did not Believe Me (Jerome Kern) continued by Interlude in piano legato on a long ostinato in the right hand, accelerated then amplified; colored by the drummer and finished by the bass which, reassured, rushes from walking on the old escalator (The Old Escalator). Liaisons, breaks, mutations, rhythmic and melodic progressions: those are intense moments that are going on crescendo. Surrealism? Magritte is close! To thank a conquered audience, Ilex is played in closing. Partially accompanied by hands on the skins, it allows Louis Navarro to wave with a beautiful solo. Who made you think they did not believe you, dear Amaury? Rest assured, we believe you note after note and we appreciate your way of being in the depth of feelings!
Jean-Marie Hacquier