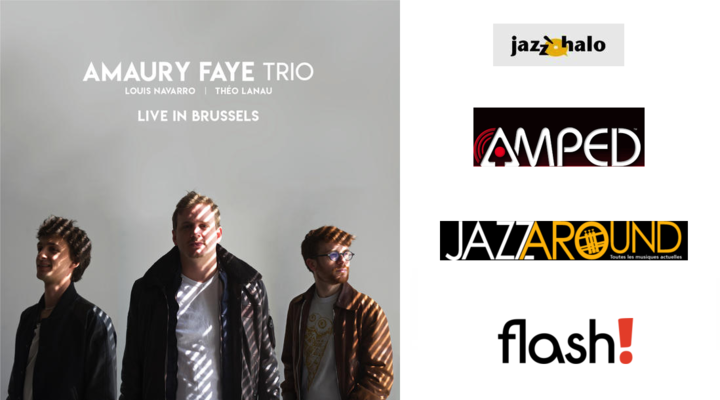 Jazzaroundmag (BE)
ENGLISH TRANSLATED
Based in Brussels for three years, the French pianist Amaury Faye has quickly revealed itself in the Belgian jazz landscape. It was mainly discovered in the bassist group Giuseppe Millaci with Lionel Beuvens on drums, a trio that has emerged as one of the recent revelations with the album "Songbook" rewarded by the Point Culture Award to the Octaves of the Music 2018. Before his arrival at Plat Pays, the pianist went through Berklee College in Boston where he studied with Joanne Brackeen - a magnificent pianist notably with Joe Hendreson and Stan Getz, after which she began a career as a soloist with many discographical references. Amaury Faye also won several awards at the Tremplin Jazz in Avignon and Jazz in Vienna. Here is his first album in trio with Louis Navarro on bass and Théo Lanau on drums, the latter already very present on the Belgian scene with appearances with Laurent Blondiau, Sylvain Debaisieux, Bart Maris, Lynn Cassiers and others. A first album far from being the last since the pianist already announces a series of five recordings with this trio in five European capitals and spread over five years. The idea does not lack originality and already titillates our curiosity and our impatience to hear what will follow so much the quality of this first recording is real and even exciting.
Four personal compositions and three standards compose this recording in public performed at the "Jazz Station", Chaussée de Louvain in Brussels. From the outset, Yosemite sets the tone for an original game based mostly on European influences with a sustained rhythmic scansion that keeps you going from start to finish. The concert then follows the three standards: Ugly Beauty by Thelonious Monk reviewed in a soothing climate, contrasting with Gershwin's Fascinating Rhythm removed at a very fast tempo with a ease that makes you forget the tricky side of the exercise. They Did not Believe Me by Jérôme Kern, a magnificent melody taken by Frank Sinatra and Dinah Washington among others, is literally sung by the piano for almost ten minutes. Follows Interlude that maintains the peaceful climate of the previous theme in a darker "classical music" spirit until the final crescendo. The significance of the leader's musical staging and his appropriateness in the construction of the concert will be emphasized by this seamless sequence with the explosive The Old Escalator. Ilex closed the concert lightly with a touch of fantasy in the rhythmic changes and interventions of his precious partners Theo Lanau and Louis Navarro. We will iron for a long time this beautiful concert Brussels pending the rest of this European journey. 
Jean-Pierre Goffin
Jazz'Halo (BE)
ENGLISH TRANSLATED
Amaury Faye studied at Berklee College in Boston, under the direction of Joanne Brackeen, pianist Stan Getz, Dave Liebman or Charles Lloyd.
In 2015, he was crowned Best Pianist of the Year, following awards at the Vienna Film Festival and Avignon. Based in Brussels since 2015, he is part of Vogue Trio for bassist Giuseppe Millaci, with Lionel Beuvens on drums. This Vogue Trio has earned the Octave of Music, recorded Songbook, also on Hypnote, and is invited for a tour in Japan.
In France, Amaury Faye formed a first trio (Big Moe Trio) with Pierre André on drums and Louis Navarro on double bass.
Then he formed this one, always with Louis Navarro, bassist graduated from the Conservatory of Toulouse and who followed masterclasses with Larry Grenadier, Hein Van De Geyn and Claute Tchamitchian and this time with Theo Lanau on drums. After discovering jazz at the Collège de Marciac, he enrolled at the Conservatoire de Paris and Bruxelles: he took classes with Serge Lazarevitch and Stéphane Galland. He is also part of Brilliant Corners, with saxophonist Sylvain Debaisieux.

With this trio claiming mainstream jazz, Amaury Faye first engraved Clearway, a series of original compositions to which is added a Parker classic. For this Live in Brussels recorded at the Jazz Station, he proposes four personal compositions, and three classics: Monk's Ugly Beauty, Gerschwin's Fascinating Rhythm and Jérôme Kern's They Do not Believe in me.
A recording tailored for this live recording, synonymous with energy and spontaneity. What strikes him at first listen is the feverish passion with which he approaches the themes, sublimating the melody by a tempo of hell, for which he can count on the interactivity of his rhythm (Yosemite, Fascinating Rhythm, The old escalator with beautiful bass solo and Ilex with intro drums). Which does not mean that he can not make the most of ballads (They Do not Believe in Me) or integrate the rhythmic world of Monk (Uggly Beauty). In the middle of the album, Interlude presents itself as an impressionist solo barely punctuated by cymbals. A very beautiful album.
Claude Loxhay
Jazz'Halo (NL)
ENGLISH TRANSLATED
This French piano trio aims to familiarize itself with the dialectic of the classical class and to enrich it with personal interpretations. A perfect idea was to record their second CD live. They chose the Brussels Jazz Station, known for its good acoustics and an ever attentive audience. With the opener they join the current wave in the wake of The Bad Plus but know there are still separate turns to indicate. Monks 'Ugly Beauty' becomes an intimistic and lyrical ballad. Via Gershwin's 'Fascinating Rhythm' they go even further back in time, more specifically to the Art Tatum school. At least during the intro because after a few minutes it goes fast.  For an hour they know how to captivate their audience. Their sometimes unexpected impulses and strongly divergent associations form favorite track changes. This is how they mark their terrain within a crowded zone.
Georges Tonla Briquet
Flash! (FR)
ENGLISH TRANSLATED
Originally from Toulouse, pianist Amaury Faye delivers us, with his trio composed of Louis Navarro on bass and Théo Lanau in the drums, a new album. Registered in last March in Brussels, these seven titles plunge into the lush universe of the trio. A range of games and styles follow one another naturally and subtly throughout the album. We sail in unlimited spaces daydream without leaving a certain heat and an intimate atmosphere. The virtuosity of three musicians is unmistakable. But she does never watch himself play Always she is at public service. Even in the passages more classic risk taking and excess related to live recording are apparent and allow the public to vibrate.
T.B.
AMPED (USA)