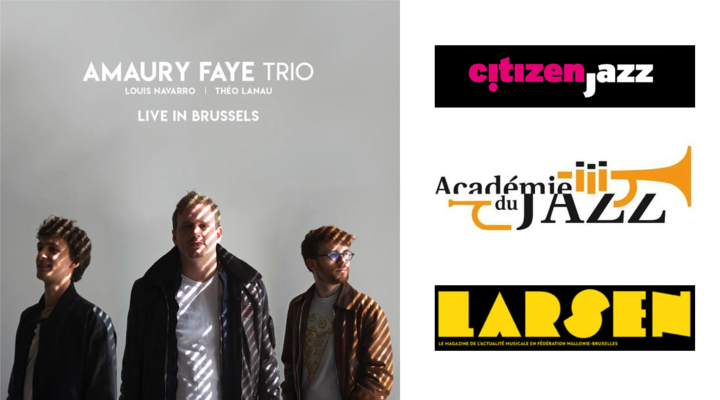 Amaury Faye Trio's Live In Brussels (Hypnote Records - 2018) has been unanimely acclaimed by the medias. Here's three new reviews by french and belgian websites Citizen Jazz, Académie du Jazz and Larsen.
CITIZEN JAZZ (FRA)
ENGLISH TRANSLATED
We've discovered the talent of Amaury Faye alongside Giuseppe Millaci and the very successful SongBook (Hypnote Records - 2017). Here he is with his own trio for a live album, recorded in Brussels, the first in a series of five discs to appear. A kind of musical road-trip, since each album will be recorded in a different European capital.  We must go back to 2014, in New York, to unearth the genesis of this trio. The French pianist first teamed up with New York bassist Cole Davis and London drummer Jonah Summerfield, before settling in Brussels in 2015. He then recruited two French musicians to continue the adventure. from the trio - Louis Navarro on bass and Théo Lanau on drums - and give it its current form. 
Over the seven tracks of this concert, we navigate between a jazz fully rooted in its traditions with the mastered standards of George Gershwin, Thelonious Monk and Jerome Kern, and a contemporary creation that reveal four compositions by Amaury Faye. The pianist is illustrated in an improvisational speech that is surprising and knows how to respond to the unexpected, and also demonstrates a real talent for writing. Meditative titles, deep, free, striking melodies that dare all the stylistic paths, all served to an excited and fascinated audience that can be heard in the background, very enthusiastic. 
The rhythm section of the trio stays on course and meets all the challenges with remarkable ease. The whole is united and can sometimes start from a calm atmosphere that an intention will suddenly diffract to make burst forth a sound effusion, without ever getting lost, nor losing the listener.  A first test transformed, no doubt. Rendezvous somewhere in Europe for the second leg of a journey started on the run.
Raphaël Benoît
ACADEMIE DU JAZZ (FRA)
ENGLISH TRANSLATED
This album is the first opus of a project which must count five, recorded live, and be part of a 'Road Trip Musical', in constant progress, over five years and in five European capitals. Nice program in the making.  The construction and energy developed on the progressions of 'Fascinating Rhythm', amazing freshness and spontaneity, (it's the advantage of the live), the instrospective atmosphere conveyed throughout 'They did not Believe Me ', all lyric content, enough to make love this album! The rest is the same, from Monk's homage to 'Ugly Beauty' to the twilight throbbing of Interlude's long intro and to Ilex's premium novelty.  No doubt, we are dealing with a Musician (he turns out to be a kid, he was a disciple of Joanne Brackeen at the Berklee College of Music, from where he came out with a Jazz Performance Award, prize for the best pianist of the year ... tell me so much!) and a trio of excellence.  Welcome, Mister Faye!
Académie du Jazz
LARSEN (BE)
ENGLISH TRANSLATED
French pianist installed in Brussels, Amaury Faye became known through his participation in Giuseppe's album Millaci, Songbook, Octave of Music Culture Point 2018. Sound first album in leader announces a series of five records "Live" made in five European capitals. Four compositions personal and three standards make up this recording directed at the Jazz Station from Brussels. From the outset, Yosemite sets the tone an original game founded especially on influences with a rhythmic scansion supported which keeps on breath from end to end. The three standards - Ugly Beauty (T. Monk), Fascinating Rhythm (G. Gershwin) and They Did not Believe Me (J. Kern) - demonstrate how much the pianist plays with happiness on the rhythms and the colors.
Jean-Paul Goffin