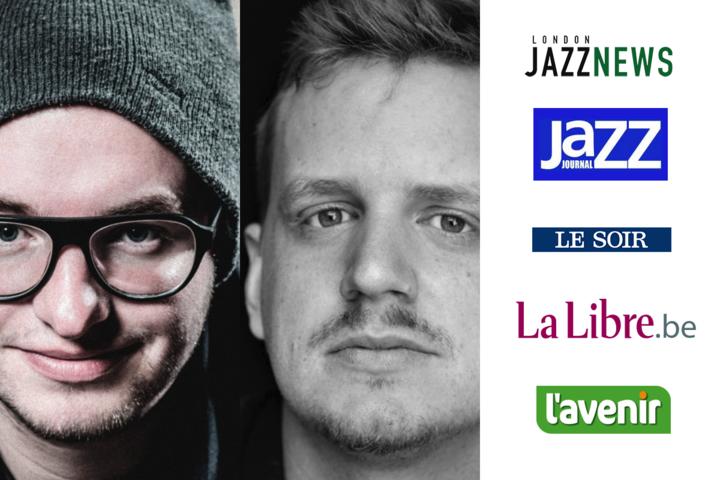 Igor Gehenot and Amaury Faye gave an acclaimed performance at Gaume Jazz Festival last August 8th in Belgium. Here are the five reviews featured in Le Soir, La Libre and L'Avenir for Belgium, London Jazz News and the Jazz Journal for the United Kingdom:
Time for an Orval beer – and how lucky they are in Gaume to have this beer as their local brew –  just ten miles away and with its own legend  – before the piano duo of Igor Gehenot and Amaury Faye came on stage. An exquisite encounter of a Belgian and French pianist, two of the best of the new generation, this was one of the highlights of the festival. London audiences already know Gehenot from performances by his trio and solo at the Vortex.
Carlo Henrich
After a blues duo interlude by Dalva, it was time to witness the first ever collaboration between two young promising pianists, Amaury Faye and Igor Géhénot. The two have been pursuing their own solo projects for some time now, but they were eager to take up the piano-duo challenge. When they kicked off with a couple of standards from the Great American Songbook, it was quite reminiscent of a recording at the Marciac Festival from Kenny Barron and Mulgrew Miller, only to later evolve into something completely different with a more contemporary repertoire. After such a brilliant performance, we can only hope that they find themselves in a recording studio sometime soon!
Pascal Dorban
Igor Gehenot and Amaury Faye presented a kaleidoscope ranging from a great standard like There Is No Greater Love to Police, passing by Trocando em Miudos by Chico Buarque and several personal compositions. Almost a first for the two pianists, and the constant interlacing between the two keyboards, the rereading of the covers, the liveliness of mind seduced the audience. The piano duet is one of the most tricky exercises in which demonstration and overplaying are difficult to avoid, and Igor and Amaury easily and elegantly sidestepped the trap.
Jean-Pierre Goffin
Face to face or in a mirror
Igor Gehenot and French Amaury Faye. Two pianists, two friends. So why not play together? That's what they came up with on Saturday. Two pianos face to face for games while mirroring. We feel that the two artists are having a blast. The fingers twirl on the keyboards, leading the audience into a saraband or a romantic reverie. They take us on a journey to somewhere else.  We can clearly see who is starting to develop the melody of a piece, we can hear Igor often higher on the keyboard and Amaury often lower, but their lines are intertwined, their melodies intertwine, we no longer know who is doing what and it does not lack charm to hear their notes oppose and merge in the same movement. A standard, "There is no greater love", a composition by Amaury, a title by Chico Buarque, "Au lac" by Igor… Long interpretations of incredible subtlety and richness listened to in the deepest silence of the conquered public.
Jean-Claude Vantroyen
Faye-Gehenot, what a duo!
As we are impatiently awaiting that of Igor Gehenot and Amaury Faye. The piano duet is the end of the end. Very demanding, the formula forces the musicians to blame themselves on their eighty-eight keys, to manage the dynamics between ebb and flow, storm and consecutive calm. A successful piano duet, that's silly to say, but it's cheerful. Between emulation and complicity, the Liegeois and the big fellow of Toulouse succeed in a beautiful try, to convert.
Dominique Simonet