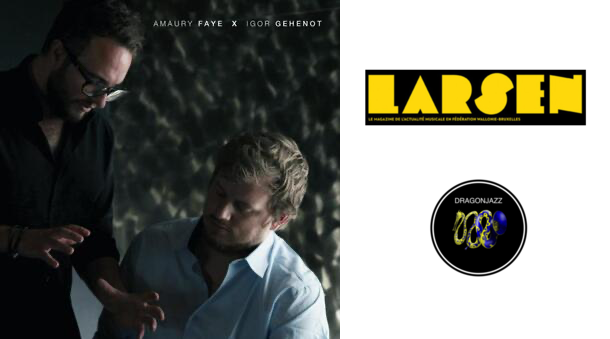 Amaury Faye X Igor Gehenot's new album received it's first reviews in belgian magazines Larsen and DragonJazz. 
The duo is the art of not stepping on each other's toes. Especially when it comes to musicians playing the same instrument. In this four-handed solo, pianists Igor Gehenot and Amaury Faye together build a singular universe, at once fiery (Egberto), stride and swinging (Magic Ball) and sometimes melancholy (Trocando Em Miúdos). From this obvious complicity, we retain the desire to have fun, seriously, on tunes of bossa, contemporary jazz or even pop. Pianists have the intelligence to listen to each other, to follow each other or to let themselves be guided on other paths. We also have fun recognizing who, of the two musicians, takes the lead, who takes the other on board, who concludes. An unusual performance that doubles the pleasures.
Jacques Prouvost
As its title suggests, this album is the product of the face-to-face meeting of two pianists: on the one hand, Amaury Faye, a Toulousian now based in Brussels, who has won a good number of awards including an Octave de la Musique in 2018 for Songbook (Hypnote) recorded in trio with the double bassist Giuseppe Millaci and, on the other hand, Igo Gehenot, pianist from Liège, author of four discs as a leader all released on Igloo Records and winner of two Octaves de la Musique for his participation in New Feel by the Lg Jazz Collective as well as for his Delta album. 
This unprecedented project, which caused a sensation at the 2020 Gaume Jazz Festival as well as in several concert halls, confirms on disc all the interest of this remarkable collaboration. The repertoire includes nine tracks combining original compositions and rather unexpected covers such as Message In A Bottle by Police, here rendered in a luminous version so as not to write joyfully. More nostalgic appear Bibo No Aozora, a splendid theme by Ryuichi Sakamoto taken from the soundtrack of the film Babel, as well as Trocando Em Miudos by the Brazilian Chico Buarque which particularly highlights the acute sensitivity of the two performers. But the most astonishing remains the arrangement for two pianos of Incompatibilidade De Genios which keeps the rhythm and the warmth of this samba by the Brazilian Joao Bosco. 
The five original tracks are also very varied, from the frenzied post-bop of a Magic Ball to the poetry of a Par A Pluie, with its notes falling like raindrops, passing through a playful and melodic homage to the Brazilian composer and multi-instrumentalist Egberto Gismonti. We could ask ourselves questions about how two improvisers speaking together, and a fortiori playing the same instrument, were going to get along without falling into mimicry? But what is most remarkable here is precisely the way in which the two pianists, each with their own style, complement each other without embarrassment or redundancy. This testifies to a real artistic affinity but also, individually, to a fine mastery of the instrument combined with a clear vision of the desired result. In conclusion, it is easy to let yourself be enchanted by these colorful miniatures of intertwined pianos that combine lightness and sophistication.
Pierre Dulieu
Some more review are to be announced in the upcoming days. For more information, follow Amaury and Igor on their social networks.