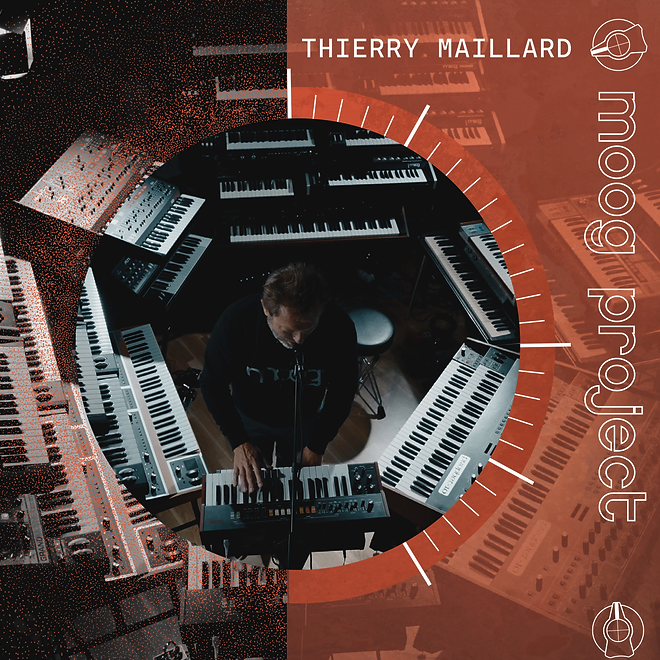 Thierry Maillard's new album, Moog Project (Ilona Records - 2023), is available today, featuring Thierry Maillard on moog synthetizers and wurlitzer keyboard, Amaury on piano, fender rhodes and moog keyboards, and Yoann Schmidt on the drums. The band has already won the Most Innovative Award of the 7 Virtual Jazz Club Contest. The official release concert in Paris will take place on Thursday May 4th at the legendary venue New Morning.
The "Moog Project" is a tribute to the music of the 70's and 80's, a period that gave pride of place to synthesizers and analogue keyboards.
"One of the first vinyl albums I bought myself as a teenager while I was studying classical piano, was "BREAKFAST IN AMERICA" by the mythical rock band of that period: SUPERTRAMP. The admiration I had for them naturally led me to using synthesizers and in particular the Moog (like the Minimoog), as soon I began giving my first jazz concerts.
The creativity of the bands of the 70's and 80's like the Mahavishnu Orchestra, Joe Zawinul, Return to Forever, Herbie Hancock and Georges Duke, to name but a few, was total and without limit or self-censorship.Today, I want to try the experience myself, to reproduce that atmosphere on stage, but where computers have no place and where the creation of live sound on these incredible instruments widely opens the door to imagination and entertainment."
Thierry Maillard
Fans of Supertramp will be thrilled that their favorite band is featured on this innovative and ambitious project, and so will lovers of the English pop melodies that inspired Supertramp (The Beatles in particular).
Fans of jazz-rock keyboardists will be seduced by the effective use of moogs from a melodic, harmonic, and rhythmic point of view. Jazz fans will love the interaction and freedom of these three musicians, and rock fans will appreciate the energy and dynamism of this power trio as well. Electronic music fans will enjoy the brilliant use of machines played "live".
For more information go on Thierry Maillard's official website.